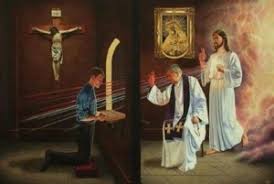 The Lord Jesus Christ, physician of our souls and bodies, who forgave the sins of the paralytic and restored him to bodily health,3 has willed that his Church continue, in the power of the Holy Spirit, his work of healing and salvation, even among her own members. This is the purpose of the two sacraments of healing: the sacrament of Penance and the sacrament of Anointing of the Sick. CCC 1420
"Those who approach the sacrament of Penance obtain pardon from God's mercy for the offense committed against him, and are, at the same time, reconciled with the Church which they have wounded by their sins and which by charity, by example, and by prayer labors for their conversion. CCC 1422
Students in 2nd grade begin preparing to receive the Sacrament of Reconciliation in September of their 2nd grade year. The Sacrament is typically celebrated in December. Students should be enrolled in a Catholic School, a Parish Faith Formation Program, or an approved Home School Religion Curriculum for 2nd grade. Students should have also completed religious instruction in their 1st grade year!
Confession Times for those who already made their first reconciliation:
Saturday: 3:00pm at St Hyacinth in the Children's Room and 4:00pm at St Mary's,
Week Day: Wednesday at 8:30am in Cato
By appointment: 315-252-9545)
Contact the Faith Formation Office with questions or more information.
315-252-3439